Crow Creek Breathes Fresh Life into the Zombie Genre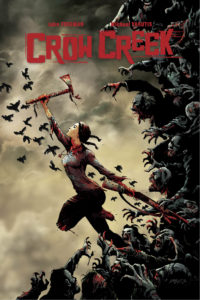 The new horror one-shot comic from writer John Freeman and artist Michael Yakutis debuts on February 1, 2021.
January 12, 2021 – Crow Creek follows the story of Native American town hall workers and secret agents. They are amidst a tense legal argument when suddenly the unimaginable happens, zombies violently burst into their building. They must quickly put aside their differences and work together to make an unnerving escape. Crow Creek is a zombie thriller with the main themes of trust and cooperation.
Emel Saat from the Freefall Comics team, had a chance to speak with the creator and owner from the Freefall Comics team – John Freeman. We discussed the inspirations he had when crafting the story to Crow Creek, as well as where the story leads to after it's stunning conclusion.
Freefall Comics: What inspired you to write Crow Creek?
John: I always had the idea in my head to do a zombie tale. Some early zombie ideas of mine included things like zombie taking over a "Titanic" like ship or one story about a zombie revolution in the early Native American era. I even had a cool little scene in one project back in 2016 with a soldier zombie, but none of those ever saw the light of day. Once I was stationed in Greenland in summer of 2019, I had the idea of a zombified man on horseback. It was like a reversal on the classic man saves the day on horseback moments that we all have seen. I even had it in the script for a long time as the big set piece. Ultimately, just that thought and combining it with a Native American lead is what spurred me into the idea of Crow Creek. Then it became evident early on, that it was a special story that I wanted to see all the way into production.
The art style has a lot of heavy shadows, as if something is hiding and possibly creeping around every corner. How did you come up with the stylistic choice?
John: As the writer/creator, I knew I needed to get an artist that could do realism well. The way I write scripts requires plenty of emotion. As far as the shadows and other details, a lot of that was the style of Michael Yakutis when he interpreted the story. Once Michael came aboard, he certainly put his signature stamp to it and embraced that horror/thriller atmosphere.
Freefall Comics: Did you have to do a lot of research on Native American reservations? Have you ever been to one?
John: I did my fair share of research, especially looking up images of reservations and how they function. A lot of the research was done to create the atmosphere and capture the culture of a Native American reservation and I think we executed that aspect well. Sure sole aspects were cut, like teepees and casinos that you can find on reservations. Ultimately, I wanted to stay true to a reservation, while making it unique. For the 2nd part of the question, no I have not! It certainly helped though, that my artist Michael was familiar with reservations a bit, which helped bring the Crow Creek to life. I definitely will go to one, once the pandemic dies down.
Freefall Comics: One of the main characters is Pauline. She's a spunky lady who's not afraid to do what she must to survive. Who is her character based off?
John: I don't have a real life example per say. Naturally, I gravitate to strong female characters, as many of my favorite films and tv shows have strong female leads. So yeah, you'll definitely see more strong female characters from me!
Freefall Comics: Other readers might have the same question as I do – will there be any more chapters in the future? It looks like a world we'd all like to explore further into.
John: I appreciate you saying that, I think making characters that we care about was one of my main goals with the project. Currently, I don't have any plans for a Crow Creek sequel. Crow Creek started out as a short story that I expanded upon. I just fell in love with the characters and wanted to give them a complete beginning, middle, and end that I was proud of. While there are some threads that could be explored, I feel that and without spoiling the story. We did an excellent arc for these characters and played out the theme of trust to its totality. I think exploring further would definitely not be a zombie thriller, perhaps maybe a conspiracy infused zombie story. It would definitely feel more in line with a traditional zombie tale. I certainly love where we closed this chapter on these characters, but you know I will never say never for a sequel.
Freefall Comics: Any words you would like to say to all the followers/readers/new backers for Crow Creek?
John: Thank you, in advance for checking out Crow Creek. A lot of you have followed me throughout my time since 2016 as a writer. Regarding Crow Creek, hope you all experience a thrill ride from reading it, as much as I had writing it! Whether you talk about a coworker, friend, family member, or stranger; I think Crow Creek is something that you should have conversations about! Lastly, just thanks for reading it and supporting me, this project is my first and it'll always have a special place in my heart.
Freefall Comics: Are there any future works we should keep a lookout for?
John: I have finished the script on what I will say is a stalker horror graphic novel. Can't say too much more about that one, but it should be my next project. The focus this year is certainly on Crow Creek though!!
Freefall Comics: Where can your readers find you?
John: They can find me all over the place! The key to finding me is a noticeable trend. My Instagram is @iamjohnfreeman, Twitter is JohnFree100, and my Facebook page is facebook.com/JohnFree100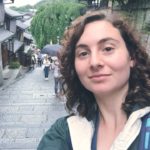 Emel Saat is an award winning indie filmmaker based in New York City. In addition to being a film director, she is also an artist, writer, producer, and editor. Emel graduated from Hunter College with a Bachelor's degree in filmmaking. Her first film Kitty City screened in 2018 & her follow-up film titled Koko Ni Inai (I'm Not Here) received critical acclaim, such as winning "Best Fantasy Film" at the 2020 New York Movie Awards.