- October 2, 2022 by John Freeman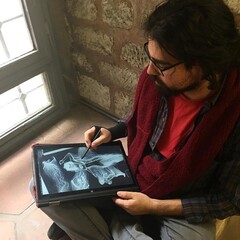 The penciler/inker and cover artist for my next comic titled "Horse of the River" is none other than Crizam Zamora. I've known Crizam for a while, because years ago we began working on a one-shot that has blossomed into a horror saga, in which I am currently scripting the entire series for release sometime in the 2020s. Our official work together has been the Crow variant cover(pictured below) for "Crow Creek", so it was definitely exciting for him to want to take on this project "Horse of the River", as well as us having planned to do an additional 2-3 more projects in the future. 
Crow Creek "Crow Cover" by Crizam Zamora & Alla Kanetsyan
     Cris Zamora Aka Crizam is an Uruguayan artist, who has been working for the creative community since 2008. Crizam's artwork has evolved throughout his years of extensive work into a finely detailed realistic style through traditional media and original artwork.  Crizam has worked for numerous comic book publishing companies such as Dynamite, Zenescope, Riot games, and various other comic book companies/creators. Crizam Zamora's credits include work on projects such as Vampirella, Swords of Sorrow, The Precinct, The Resurrected, Heist on Alpha, and Ekko. 
     Crizam's interests include chess, music, and he is an avid reader of both science and science fiction. He's been a nomad for nearly a decade, having most recently left his home of Ukraine temporarily and now he resides in Portugal with his partner, Tina.  
Art Portfolio Samples from Crizam