The Blog of All Things 2021
- November 14, 2021 by John Freeman
Greetings! What more can be said about 2021 for me! It was a great success and a huge leap forward for me. Many things happened, but the highlight was the release of my debut comic Crow Creek. I am continuing to serve in the military and it's been like time has flown since I initially joined. I will be at 8 years in February. Also this year, I began my second job as a Uber Driver and even experienced Fright Fest at Universal Studios for the first time! I'll talk more about these things below, in addition to my top picks for movies and what I read! 
                                                                                                                                          FRIGHT FEST
On Halloween weekend, I went to Fright Fest at Universal Studios Hollywood and it was a blast. I missed out on the Transformers ride sadly, but the Harry Potter and Jurassic World rides were my favorite ones, only bad part about it was all the rides weren't available because of it being Fright Fest. I felt like I would of needed an all day pass or a fast ticket but I had a lot of fun there! It would a good experience Vlogging on my Instagram with it also, so I plan to do Knott's Berry Farm and Six Flags Magic Mountain next year for Fright Fest also!
                                                                                                                   CROW CREEK & THE NEXT PROJECT
2021 was my breakout year and it all began with an a genre that I wanted to write in for awhile. The marriage of zombies and Native American culture collided in January with my debut Crow Creek. It is a comic that will only get bigger with time and it certainly remains my intent that we can talk about the comic for years & years to come. It simply was never about aimless zombie killings. I feel we achieved that, but there is still more reach to be had. 
Crow Creek was involved in Kathryn Calamia's The Dancer Kickstarter as apart of her Indie Bundle & has had numerous releases across the websites digitally for free. I am going to release it again inside my upcoming graphic novel collecting Crow Creek and my next two projects: a one-shot creature horror tale with Michael Yakutis on the art & another short story with Crizam Zamora. Lastly regarding the graphic novel, right now it is looking like roughly 90 total pages will be included in it, but we are in production so things can change. Be on the lookout for more info! 
                                                                                                                                  Favorite Films & Shows
Getting the shows out the way first, well it is pretty easy actually for me because I only saw Wandavision, Falcon & the Winter Soldier, Loki, & Marvel's What if. Okay there is a Disney+ trend going on there! Wandavision stood out above and beyond by far. TV shows aren't really my thing so here is my movie talk because I saw pretty much 1-2 movies a week. 
I wound up having my enjoyment of going to the movie theater reignited this year! The very first movie I saw in theaters this year was Spiral: From the book of Saw. I enjoyed it and then there became an onslaught of good films. I thought Shang Chi, The Suicide Squad, A Quiet Place 2, No Time to Die, and The Night House were the ones that spring forth into my mind as the ones I had a really great time seeing, but weren't my top 2. 
My runner up pick is Candyman. That movie had so much lore to deal with and Nia DeCosta did her thing of crafting something original and certainly frightening with it. 
The big pick of the year for me was Dune. Denis Villenueve has been making some phenomenal sci-fi in the recent years, having made Arrival and Blade Runner 2049. But Dune was by far his best film I think. It had the spectacle and atmosphere of a blockbuster film, but what was key lied in the coming of age story amidst it all. I highly recommend it and can't wait for the inevitable follow-up. 
My most disappointing film was Halloween Kills. Halloween(2018) is one of my personal top five films and I was anticipating the sequel, but it just wasn't a great film like the previous one. The previous entry gave me chills throughout and kept me on edge with tension. If you a scare is coming and a film still creates that atmospheric tension effectively then it did it's job at a high level. My issue with Halloween Kills is that it had zero tension to me, so sadly it wasn't in my top 2-3, but I am hoping Halloween Ends next year will conclude the franchise properly!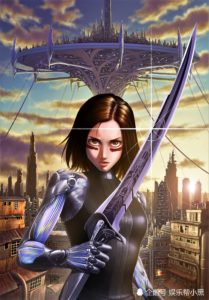 What Did I Read? 
As far as Webtoons were concerned, I read through Witch Creek Road and my favorite of the year was Not Even Bones. Maybe one month for next year, I can reach out to the creators and do a blog interview for it. I highly recommend those Webtoons for sure. 
My big read of the year was the entirety of the cyberpunk classic Battle Angel: Alita. The film was excellent, but the manga gave so much depth and Volume 2 I think stands tall as my most favorite volume of any comic, graphic novel, or manga.  Right now I am reading through the Akira manga right now, on Volume 2 of 5. 
As far as Kickstarter related reads, of course my blog interview picks were really good and I highly recommend you read those. They are Crow Creek, naturally and then we have Gehenna: Death Valley by Becka Kinzie, Enenra by Aaron Wroblewski, Witch Creek Road by Garth Matthams, and Lampblack by Camille Longley. 
I will add one more Kickstarter book that I find phenomenal and that is Duplicant by Karla Nappi. It's so good so definitely look into that one also! 
                                                                                                    Upcoming 2022 Blog Interviews
Regarding blog interviews, well these work more or less dynamic schedule-wise. I will reach out to other horror creators as their projects get nearer to release. Usually 2 months out is as far as I will know about the project to get interviews in. The key thing for next year is that I want to interview at least one webtoon creator, something that never came into fruition this year.
                                                                                                     Upcoming Blog Posts
Next year, I will do a solid 6-7 blog posts on roughly a 2 month schedule. This year I reached that number, but my schedule wasn't consistent. To prevent that from happening again, I actually wound up brainstorming what I want to talk about in blogs for next year. Those topics will all lead into our brief team announcement & first look for my next comic! The blog posts will go something like this: 
The Hallway & Utilizing Unfinished Projects for Later – January
Writer's Block & Quiet Places – March 
My Uber Driving Experiences – May
Music & Writing – July
Blog about my 3rd and final unreleased comic – September
2nd part to my unreleased comic post – October
After that I will most likely begin to announce some things and posts for my upcoming comic project, which will be a creature horror tale involving something highly unique! 
Thanks everyone for reading and I'll be back posting on the first week of January!